Jeff the Killer
From Screamer Wiki
Jeff the Killer is one of the classic creepypastas and a common thing in screamer tradition. Jeff the Killer refers to an image of a pale man with no nose and black eyes with white and black pupils, a long canine-like smile, and a white coat on in a dark room with laundry hanging with the light of the moon illuminating it from a window in the background. He is a serial killer who sneaks into people's homes and whispers, "Go to sleep." before killing them with a knife. Sesseur was the first person to create a story behind it, but it does not revolve around him being a serial killer. A remix version, which was way more popular than the original itself, revolves around a tragic story behind Jeff, which led him to become a serial killer due to his insanity.
This image of Jeff became controversial shortly after it was believed to be of a woman named "Katy Robinson," who had committed suicide in 2008. This started on 4chan, but after months of extensive research, it was revealed that it originated on the Japanese website, pya.cc. This image, in particular, was also an edited version of another picture that appears to look like a woman with googly eyes and a smile, but it was edited to make the mouth stretch out and the eyes edited to have white and black pupils. These two images were uploaded before the creepypasta was made.
The first person to create a story around it was a DeviantArt user Sesseur.[1] In the original story, a person named "Jeff" was hauling a gallon of acid into his bathroom to clean his bathtub. Suddenly, Jeff accidentally slipped on a bar of soap, fell on the floor, and the gallon of acid splashed over his face. Jeff's neighbors began hearing him cry for help, and they took him to the hospital. The incident happened while his brother, Liu, was at work. The accident has led Jeff to never look the same way again.[2] The first story does not revolve around Jeff being a serial killer. However, one of the fans of Sesseur, named GameFuelTV, wrote a story about Jeff in a completely different way to the original, such as Jeff becoming a serial killer because of his insanity.
In the fan's story of this creepypasta, a child named "Jeffery Woods" was a 13-year-old teenager who lived in a normal Surburuan town with his parents and his brother Liu. Jeff had thought of the idea of moving into another neighborhood after his father got a promotion, which his family agreed to, and moving on. On his first day of school, while hanging out with his brother, the three bullies approach the two and mug them at knifepoint. Jeff urged the feelings and began fighting them, paralyzing three of them. He and his brother exited the scene to board the school bus for the ride to school. A day later, police arrived at Jeff's home, where the two were accused of attacking the bullies with no manners. Jeff even tried to convince the police that the bullies were mugged, but the police failed to believe him. However, Liu snitched on Jeff by making them believe that he was the one to blame for the whole incident, which drove Jeff into depression and stress. His mother suggested moving into a party to make him feel better. However, Jeff managed to the run up to the bullies, brutally beat him up, and he managed to kill one of them. Then, Jeff lured the two other bullies into the bathroom and began wounding them, but he was doused with alcohol and the bullies set him on fire.[3][4] He woke up from the coma at the hospital, where he saw his mother informing him that Liu was released after it was revealed that Randy was the one responsible for the incident that happened with his brother After taking those bandages off, he found out that his face had become disfigured from the burns, which has a ghostly pale,[3] but Jeff oddly seemed to like his face this way. After being told to go home, Jeff's mother saw him burning off his eyelids and carving his own face with a smile.[3] This led his mother to tell his father that he had become insane and needed to be killed. Jeff heard this and killed them. Jeff became a serial killer that sneaks into people's home and tell them to "go to sleep" before killing them,[3][5] such as Jeff going into Liu's room before telling him to "go to sleep" before being fatally killed with the knife plunged into his chest,[4] finishing the story.
The back-story behind Jeff was first made by DeviantArt user Sesseur, but he was not the author of the story above. Sessuer's story, which was uploaded to YouTube on October 3rd, 2008,[6] was completely different than the one shown above, such as Jeff accidentally spilling a gallon of acid into his face while cleaning the bathtub,[2][6] while the famous one, which was written by a fan of his earlier work, is about the consequence of Jeff's becoming an insane serial killer. Jeff's real name in the actual story was Jeffery C. Hodek, rather than "Jeffrey Woods" in that manner. On August 14, 2011, the image was posted to 4chan with the text "Go to sleep". This phrase had become known as Jeff's signature catchphrase after the famous story featured Jeff using the phrase before killing Liu at the end of the story.
Prior to the original backstory video, Jeff The Killer was seen on the account "killerjeff" in Newgrounds,[7][6][1] which was owned by Sesseur on June 7, 2006, pretending to act as Jeff. In one of the account's news posts, which was dated August 10th, 2008, he stated that he had found the photoshopped image on Encyclopedia Dramatica and that he decided to create a back-story behind it. Jeff was originally supposed to be a game similar to Bloody Mary, where the person must hide in the closet with all of the lights in the room turned off, sit down cross-legged, and repeat the sentence "He's in here with me." three times while turning their head back and forth. After doing this, the person must close their eyes and call out the name "Jeff," so that Jeff will appear in front of them. This can be stopped by standing there and complimenting him; otherwise, the person will have nightmares.[8]
At an unknown date, the original back-story video was shortly deleted after YouTube terminated Sesseur's channel for disbelief of him being the original creator of Jeff The Killer. The Brazilian channel PhenomenonPoltergeist shortly re-uploaded the video to YouTube on January 20, 2014, but the original video was muted, which claimed to have "I Guess You're Right" by The Posies as the background music. Later on, the video with the original audio was finally uploaded to YouTube by user Bob's Brother on an unknown date, but it was unfortunately deleted after the channel was terminated.
As creepypastas began to take over the internet, many of the screamers used Jeff the Killer as their segment to scare the viewer, with one of the examples being Anne.jpg, Spooky Scary Skeletons and more.
See Also: 4chan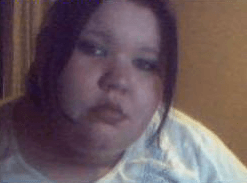 The image received controversy[7] after it was believed and rumored to be an unedited photo of a woman named "Katy Robinson," who committed suicide after finding herself being bullied[2] for her weight on 4chan.[6][1] This started when one post on 4chan, dated April 21, 2008, was written by a supposed brother of Katy Robinson claiming that she had committed suicide after she was bullied for having her picture posted on 4chan. However, some users say this is made up of a corpse with a dog's broken jaw.[6][1] During Sesseur's interview with ScareTheater, where one of the questions involved the origin of the image, to which Sesseur answered by claiming to be a picture of himself wearing a white latex mask.[9] Ironically, this was likely false. As proof that he had claimed that its "alternate version" of this image was his original design concept.
The earliest sighting of this image was on the Japanese message board, pya.cc, where the two images (including the less unedited and the edited Jeff one) were uploaded.[10] These two images are uploaded between September 10 and November 16 on 2005, by users Mr. Maruhorando and Omega Boruto. The first image, named "white powder" was a less unedited version than the one used for the character of Jeff. The earliest other appearance online was on August 2, 2007, when it was featured in a Japanese screamer video titled "NNN臨時放送", which was probably for a horror film project named "Victims of Tomorrow". The image appears at 4:11, before the text "おやすみなさい" appears on the black screen, to which it would mean "good sleep,", which is in a similar manner to "go to sleep." After finding the image through extensive research, it was found that the woman in the picture was named "Katerine White", who still lived with two kids. One Reddit user also contacted Katherine through Facebook to ask if she was aware of being rumored to be dead by 4chan users, to which she responded back by threatening those who made that rumor about her death on /b/ with a lawsuit.[10] However, there were mentions of Heather that she was a different girl than Katy because of her appearance at that time. The image of this woman was originally posted to the site TrueChristian.com on November 17, 2004.[11]
A story was also created to explain the origin of these images, made by a few users on 4chan's /b/ imageboard. The story involves a woman named "Victoria", who is a live-streamer on the site Stickam and uses/b/ as self-promotion of herself as SomethingAwful forums will become obsolete. A /b/ user took a screenshot of her face and posted it to the board with the caption "Am i pretty?". Later, other users on 4chan began photoshopping and posting the image as a reply, with one of the users posting the less-unedited image with a caption, "Now you are." The woman then found out about the post and quickly vanished off the internet.[12] Victoria is one of the people that was rumored to be the woman on the image, as this would explain the story.
↑ 1.0 1.1 1.2 1.3 Newitz, Annalee. "Who Is 'Jeff the Killer'? and Is His Picture Haunted by a Real Death?" Gizmodo, Gizmodo, 16 Dec. 2015, https://gizmodo.com/who-is-jeff-the-killer-and-is-his-picture-haunted-by-1016241494.
↑ 2.0 2.1 2.2

Gobbo, Lorenzo. "Jeff the Killer – Leggenda Creepypasta o Fenomeno Reale?" Horror Stab, 12 Mar. 2021, from https://www.horrorstab.com/storie/creepypasta-ita/jeff-the-killer-leggenda-creepypasta-o-fenomeno-reale/.

↑ 3.0 3.1 3.2 3.3 Cotter, Padraig. "Who Is Jeff The Killer? Creepypasta's Evil Villain Explained." ScreenRant, 21 June 2019, screenrant.com/jeff-killer-creepypasta-villain-origin-explained/.
↑ 4.0 4.1

Wilkinson, Chase. "6 Terrifying Creepypasta Stories That Need Movie Adaptations." CBR, 30 Nov. 2021, from https://www.cbr.com/creepypasta-stories-that-need-movie-adaptations/.

↑ Cotter, Padraig. "Who Is Jane the Killer? Creepypasta Character Explained." ScreenRant, 17 May 2019, screenrant.com/jane-killer-creepypasta-origin-explained/.
↑ 6.0 6.1 6.2 6.3 6.4

III, Fernando Alfonso. "4chan Hunts down the Origins of an Internet Horror Legend." The Daily Dot, 1 June 2021, https://www.dailydot.com/unclick/4chan-x-origins-jeff-the-killer/.

↑ 7.0 7.1

Houston, Madison. "From Legendary Horror Icon to Internet Meme: Jeff The Killer." Nerdvana, 1 Mar. 2017, nerdvanamedia.com/sci-fi-fantasy/legendary-horror-icon-internet-meme-jeff-killer/118341/.

↑

killerjeff.newgrounds.com/news/post/169853

↑ [https://www.youtube.com/watch?v=MhPpcvD01Ok&t=90s "Interview with the Creator of Jeff the Killer"] December 12, 2015 - via YouTube.
↑ 10.0 10.1

[Jeff the Killer - new image origins? "https://www.reddit.com/r/creepypasta/comments/bd5wzp/jeff_the_killer_new_image_origins/"] - u/[deleted] on Reddit.

↑

[https://archive.4plebs.org/x/thread/23477917/ "Finding the unedited image of "Jeff" (Oldfag Edition)"] 28 Sep 2019 - Anonymous on 4chan.org
NOTE: Some of the following links contains screamers!
Original image, a less-photoshopped one: web.archive.org/web/20180118092048/pya.cc/pyaimg/pimg.php?imgid=17882
The image used for the character of Jeff: web.archive.org/web/20210618155920/pya.cc/pyaimg/pimg.php?imgid=20716
Original story with no audio: youtube.com/watch?v=5RSDIIEoLkA