Now that the Flash plugin/app will stop working on January 12, 2021, If you still wanna play them, then go to Ruffle
and click "Demo" Button, now select the .swf file, and click "OK", now the user can play their own flash games.
NightMare
Jump to navigation
Jump to search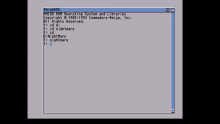 NightMare is a scareware application created by Patrick Evans in 1990 for Amiga computers. When executed, it will run in the background. Every 5 minutes, the screen will switch to a picture of a skull, seen from its right side, with its mouth open, teeth covered in blood and a bullet hole on the back with blood leaking from it. This is accompanied by an echoing shriek and happens for a four-fifth of a second.
NOTE: The following video contains a screamer!
youtube.com/watch?v=ubFGj4lQSyM
Comments
[
edit
]
---