Goatse
Jump to navigation
Jump to search
CLOSED WEBSITE
This page is about a website which no longer exists.
NSFW
This article may contain material that is Not Safe For Work! Viewer discretion heavily advised.
Goatse
Kirk Johnson, the man behind Goatse.
| Maker: | Kirk Johnson |
| --- | --- |
| Type: | Shock site |
| Creation date: | 1999 |
| Status: | Deleted |
Goatse, commonly pronounced known as goatsex & goat-see, is a shock site created in 1999 by Kirk Johnson.
This image was originally named gap3.jpg, and originally came from an archive of several other pictures of the man stretching out his anus out of places such as the rectum using several different methods, named gap.zip.
In 2004, the owner of the website was eventually taken to court, and the website got suspended. The man in the picture was later identified as Kirk Johnson, a gay man[1] in his late 40s who actively posts pictures and videos of himself on pornographic websites, under the username KirkJ.[2] the domain name got suspended by Christmas Island Internet Administration for Acceptable Use Policy violations in response to a complaint, but many mirrors of the site are still available, remaining on display on many other websites. The Christmas Island resident filed the complaint that resulted in the suspension of this domain name.
History
The website was then put back, after a new owner purchased the website for 8,000 euros in 2008, and is now planning to be a subdomain service on which you can host your own website. It now also has plans for its own e-mail system, named, Goatse Mail, claiming to be launched in early December 2012. However, the e-mail system has not been launched since. There were also plans for a cryptocurrency called Goatse Coin, but there doesn't seem to be any progress.[3]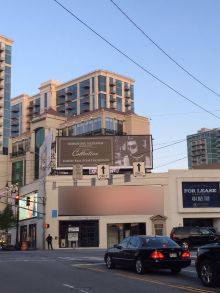 Some viewers also claimed that before the hello.jpg image was shown, it became an internet meme, there were some other pornographic images shown on the site, such as a picture of a woman doing sexual acts with a goat. However, no one has been able to confirm this statement's validity.
In Popular Culture
2015: In Atlanta's Buckhead neighborhood, hackers hacked an electronic billboard to display the goatse image.[4][5]
Mirrors
There are a few mirrors to the website such as goatse.info and goatse.ru. The image has also been displayed on happypuppies.net, another infamous shock site for its disturbing imagery. Some versions of Last Measure that will harm your computer and also show the Goatse image.
References
Links
NOTE: The following shock site contains graphic images!
goatse.cx
web.archive.org/web/19991008013724 19991008013724]
web.archive.org/web/19991008013724/goatse.cx/
goatse.ru
goatse.info
LOLSHOCK mirror: goatse.bz
Shockchan mirror: shockchan.com/goatse/
Censored version: goatse.xxx
bestgore.com/forums/topic/goatse/
Hidden Links
bigfootproof.com
web.archive.org/web/20110719010616/stretch.ragingfist.net/
Comments
---