Shock site
From Screamer Wiki
‎ ‎‎ ‎

Warning! This article is NSFW

!

This article may contain content unsuitable for readers under eighteen years or older.‎
Reader discretion is advised.

‎
A shock site is a form of screamer that uses disturbing imagery, commonly pornography, gore, and graphic content, to shock the viewer(s). Just like traditional screamers, shock sites have a goal to shock the viewers with unexpected content. Some good example of shock sites are 2 Girls 1 Cup, Jarsquatter, 1 Lunatic 1 Ice Pick and Goatse. These websites have gained a high level of popularity and are often used as a way to prank people, the first shock site ever created was Rotten.com, a website that features pictures of dead people, disgusting diseases, deformed bodies and many more, in addition, the website is also the first gore site ever created.
Popularity
Shock sites slowly started to spread around the web in the late '90s. The first shock site to be widely spread across the web was 2 Girls 1 Cup. This one-minute clip of two women performing a scat play made a huge success. Since then, more shock sites surfaced on the Internet.
Popular Culture
Because of their popularity, shock sites have been mentioned or featured in many works of fiction. Lemon Party has been mentioned in a sketch on Talkshow with Spike Feresten, Archer, The Simpsons, The Cleveland Show and 30 Rock. 30 Rock made three allusions to "Lemon party".
The website has also been described by Jimmy Fallon on the Opie and Anthony radio show, on Chelsea Handler's TV show Chelsea Lately, Michael J. Nelson from RiffTrax.com during the RiffTrax for Avatar, by Jon Stewart on The Daily Show, American Dad, and by Michael Cera and Jonah Hill during promotion for the film SuperBad.
In the Family Guy episode Back to the Woods, Brian asks Stewie for help getting unhitched to a pole, but Stewie refuses in retaliation for "making me watch that video with the 2 girls and a cup!" The episode then cuts to Brian filming Stewie sitting on the computer and watching 2 Girls 1 Cup. Stewie then proceeds to become surprised and shocked by the video.[1]
Reactions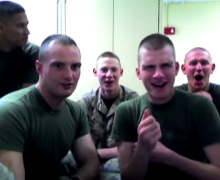 As shock sites made surface on the web, more reaction videos were being posted and eventually became a trend on the Internet. The concept of a reaction video is to get someone to visit a shock site while recording their reaction. A good example of this is the Marines 2 Girls 1 Cup Reactions video, which has accumulated almost 10 million views since it was posted to YouTube in April 2008, in addition, this is the first reaction video ever on YouTube.
Links
External Links
References