Walk the Dinosaur
Jump to navigation
Jump to search
Stub Article
This article needs more work. You can help Screamer Wiki by expanding it!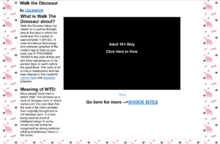 Walk the Dinosaur is a shock site showing a looping video of two three-dimensional dinosaurs having sex in a 69 position. "Walk The Dinosaur" by Was (Not Was) plays in the background. It is apparently intended to be a "masterpiece" work of art.
NOTE: The following shock site contains pornographic images!
walkthedinosaur.com
shockchan.com/walk-the-dinosaur/ - Shockchan mirror
youtube.com/watch?v=sonqazDTepk