FAQ
From Screamer Wiki
Frequently Asked Questions
General
What is Screamer Wiki?
Have you had a chance to read the about page? If not, here's a brief overview from that page for your convenience:

Screamer Wiki, also called Screamerfanbase and formerly known as ScreamerChecker, was founded on November 11th, 2013 by AnimatorXP, with the simple goal to index all screamers ever made. Screamer Wiki started out on Wikia, now known as Fandom, and we are now operating on our own website. Screamer Wiki has since then grown to 1,951 articles, 139,079 total edits, and over 150,000 weekly visits.
How do I edit?
On desktop, click the "edit source" or "edit" button on the main page, then type in your edits.
On mobile, click the pencil icon to start editing.
Once you are finished with your edits, in the summary box, summarize what changes you did then click "save changes".
How do I create a page?
On computer, search the page name you want to create, if the page does not exist, the text "Create the page "[Insert page name here]" on this wiki!" appears, click the page name then edit it like any other page.
If you still need some help, watch this short video.
You could also use Screamer Wiki:Page Creator to quickly create or edit pages.
How do I contact a user?
There are two ways to contact a user. One is via email and the other through his or her talk page.
To message that user via talk page, navigate to that user's username (the url is User:[Insert username here]) then click the "discussion" button.
Then,
If you're on desktop, click "add topic" then type in what you want to tell that user.
If you're on mobile, click the arrow next to edit then click "add topic" in the dropdown menu. Then type in what you want to tell that user.
To E-mail a user, follow this visual guide. This is good if you are trying to message an inactive user.
NOTE: You need to make sure you confirmed your e-mail address or else this won't work; this can be checked in your preferences. The user you are sending an e-mail must also confirm his or her address, and have e-mail active, too. NOTE that doing this will reveal your e-mail address to the recipient.
1.Go to Special:EmailUser.
2.Type in the username of whom you want to send your message to.


3.Enter your message then send.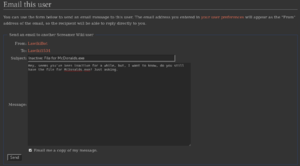 4.The recipient will then get the message in his or her inbox. The message, however, may appear in the spam folder though.
5.The message can be viewed and replied to.


How can I help?
These are some good practices
Delete any scary images, videos or clickable links that go directly to the website and replace them with un-clickable links.
If you see someone violating any of the rules, tell them by using this Rules#Templates_and_examples template and fix the page.
If you notice someone spamming/vandalizing, fix the page and contact an admin.
If you see any grammatical or spelling mistakes, correct them.
If you see any false information, correct it.
If there are missing categories, add them.
Help expand some article stubs.
Locate and mark pages that need expanding as article stubs.
Create links to some orphaned pages.
Upload and add some images! Visit Special:Upload.
Write a new article that's on the wanted list!
Fix any double redirects by redirecting the first page to the third page.
Check for broken redirects and either mark them for deletion or find a more appropriate target.
Consider splitting up very long pages into different pages or subpages.
Create some links on dead end pages.
How to I upload?
There are a few ways to upload (you must have an account to upload files on the wiki.) For images and audio under 50mb:
On source editor, drag and drop images where the text "Drop files here" is located, then click the "upload this file" button.
On VisualEditor and mobile editor, Go to Insert > Upload, then select and upload your file there.
For audio and videos:
For everything else:
We recommend using Catbox or any other free file sharing service to upload any other files. You can then link the files by copying the link and posting it here.
Absolutely, here's a list of all official social media.
Accounts not listed here are not ours.
Dude why aren't you on TRUTH Social/Twitch/Myspace?
Because there's no need to be there at the moment.
If you want to create a Screamer Wiki social media account on one of these sites (or any other site), you are allowed to, just make sure people know the account is unofficial.
If you do create an account and attempt to pass it off as official, expect a ban.
Is there an official email for Screamer Wiki?
Yes, you can email Screamer Wiki at "angeleno(at)screamer(dot)wiki"
Does Screamer Wiki have screamers
The wiki does not allow screamer images nor gifs.
How can I help Screamer Wiki?
Google tends to promote big websites (such as Fandom), blog-style websites that run tons of ads (AdSense is owned by Google), or sites that heavily rely on Spamdexing (many popular sites do this too). We are none of these. Other search engines do not really matter in this case since Google holds a monopoly.
The best way to help us grow is to link to Screamer Wiki on your own website or shout us out. Doing this can help make Google's algorithm boost us in search results.
You can also help by getting people, including yourself, to use one of the plenty alternative search engines instead of Google.
What is the policy on Screamer Wiki's copyright?
Content on the wiki is under a Creative Commons BY 4.0 license, which means you can use any content on the wiki for anything commercial or noncommercial as long as you give us credit. This may or may not apply to images.
When it comes to our branding, if you are a planning on making social media, videos, merchandise, games, conventions, or anything else under the Screamer Wiki name, you are allowed to, but you must note it is unofficial or seek permission first.
What time zone does Screamer Wiki use?
Screamer Wiki is based in California, United States, and therefore we use Pacific Daylight Time (PDT) for updates and the default time zone.
Staff
Who are the administrators?
The active administrators on Screamer Wiki are
- Also note that Angeleno and Tankman fan 44 are bureaucrats.
What can admins (and bureaucrats) do that normal users can't?
Unlike normal users, admins can:
Delete and undelete pages, page histories, and uploaded files.
Lock (protecting) a page so it cannot be edited or renamed by users without admin rights or autoconfirmed status.
Ban IP addresses or users from editing; and very quick "rollback" or nuking of undesirable edits.
Bureaucrats can do even more. In addition with everything admins can do, bureaucrats can also
Give or revoke admin, bureaucrat, rollback, or content moderator rights to any user.
Have access to the backend upon request.
Rename users.
Who is the domain holder for screamer.wiki?
The domain holder for screamer.wiki is Angeleno.
Can I become admin?
Follow the user rights guide to see how to get permissions added to your account.
Generally, you will get rollback and eventually more permissions if you are active and the admins know you are not a troll.
Spamming things such as GIVE ME ADMIN in talk pages in attempts to get administrator will do nothing and probably make it harder for you to become an admin.
Bans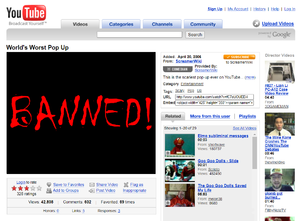 Have I been banned?
You can see if you're banned by attempting to edit any page, additionally the comment box will not show up. If you are banned, this will show up.
My IP address was banned but I didn't do anything wrong!
That's probably because you are on a dynamic IP address, if your IP is banned, leave a message on your talk page explaining such. You can also create an account or log in as IP bans do not apply to logged in accounts.
How do I appeal my ban?
If you would like to appeal a ban, simply put a message on your own talk page explaining why your ban should be lifted. You'll then get a response from an admin a while later either removing your ban, reducing your ban length, or simply telling you that your appeal was flat out denied.
You can also use the email feature to appeal your ban if you have not been blocked from using it.
Community
If you have more questions, you can ask on the forum or Talk:Screamer Wiki.
From left to right (top to bottom): GNAA, Encyclopedia Dramatica, ВИD of Doom, Moto Moto meme, Liquid Generation (logo in background), The Maze, MFX Media production code for 2 Girls 1 Cup (MFX 1209), Ghost Caught on Tape, Zoeken, Goatse (Kirk Johnson), Jeff the Killer, Useful Reminder, Ronald McDonald (in reference to McDonalds.exe), Stickman Screamer, the blue text from Kikia, Cactuses (in reference to Screamer Cactus), K-fee commercials, Mimi from Lomando.com, The :hap: smiley (in reference to Onche.fr) wearing the "Kekma" hat, Scratch cat, and Where's Waldo?.