Hit the Dot
Jump to navigation
Jump to search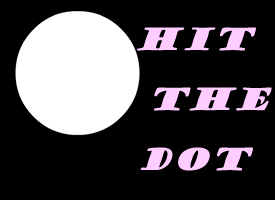 Hit the Dot is a Flash game made by Jeremy Winterrowd on 2006.
In this game, the player has to hit a white dot that moves across the screen. Every time the player clicks it, it becomes smaller and moves faster. After multiple times of getting smaller, an animation of Sarah, from Exorcist: The Beginning, hitting the screen is played, followed by the picture of Regan MacNeil from The Exorcist accompanied along by a loud scream.
Showcase
[
edit
]
Censored: Hit The Dot
NOTE: The following game contains a screamer!
winterrowd.com/hitthedot/
winterrowd.com/hitthedot/hit-the-dot.swf
Languages
[
edit
]
The following article is available in other languages.
Comments
[
edit
]
---