Maze Game DX
From Screamer Wiki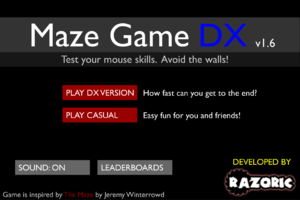 Maze Game DX is a Flash game similar like The Maze, it was made by Razoric.
The game where you navigate a red square to finish and unlock three levels. however, near end of the third level, a picture of a zoom in bloody mary's face pops up with a woman screaming, if the player cheats, this will lead to a game over screen, There's a causal version which have four levels using two screamers will fast pop up automatically nearing the end of the fourth level includes a picture of a demonic skeleton with a low pitched roar.
NOTE: The following game contain screamers!
playscarymazegame.net/play-scary-maze-game-dx/