Rightxd.org
From Screamer Wiki
Closed Website
This article is about a website that no longer exists. Links to its archive on the Wayback Machine or a saved copy are provided.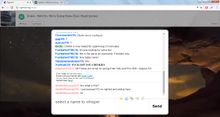 Rightxd.org, also known as Rightxd, was a screamer website that was once notorious on the internet until its eventual disappearance in September 2019. The website had been circulating on the web, and there were several posts that warned users against searching for "Rightxd" on Google.
Upon opening the website, the screen would turn black momentarily before a flashing, edited image of a girl with no eyes would suddenly appear, smiling and zooming in on the screen, accompanied by the same scream from The Maze. This image would fill the entire screen, but if the user scrolls down, a box with some text would appear, explaining that the site was not meant to be scary but rather a new form of art. The creator emphasized that "This site has never been and never will be a scare." It's worth noting that the original image of the girl can be found here.
Before September 2015, the website displayed a flashing picture of Regan MacNeil with the same scream. Additionally, there was a chat feature with no screaming involved.
History
The website was originally located at "rightxd.com," and it had a screamer that could be triggered by typing "/666" after the "rightxd.com" part. Once triggered, the website would display a flashing picture of Amy from Fright Night, which was the same animated file from Mov0001.swf. This screamer became infamous on the internet due to its shocking and startling nature.
However, in 2014, the original site moved to rightxd.org. The website underwent several changes over time. In August 2015, the screamer image was replaced with a picture of Regan MacNeil, while the same scream continued to play. This change disappointed many of the website's followers who were used to the original screamer.
In September 2015, the website started redirecting users to a deleted video called "Head Horse." The video was unsettling and creepy, leading to many people speculating about the website's intentions. The following November, the site redirected to another now-deleted video called "Cosplay."
At some point in 2016, the website's picture was changed to clouds in Minecraft. The change was intriguing as it deviated from the website's traditional shock tactics. Users had to press F12 and ensure that the screen was 700 pixels to the left to view the picture.
As of 2018, the website had become a torrent website, which allowed users to share and download various files. It is unclear why the website changed from a screamer site to a torrent site, but it's likely that the site's creator wanted to distance themselves from the website's negative reputation. However, despite the change in focus, the site eventually became defunct, and its disappearance left many wondering about the reasons behind its downfall.
Link
NOTE: The following website contains a screamer!
Rightxd.org
Rightxd.org/chat
Teenage Girl Version: web.archive.org/web/20160108162134/rightxd.org/iuie74rbowu.mp4
Regan MacNeil Version: web.archive.org/web/20160714195610/handbeezy.com/media/videos/521.mp4
Comments
Comments