Rightxd.org
From Screamer Wiki
CLOSED WEBSITE
‎‏‏‎‏‏‎ ‎‏‏‎ ‎‏‏‎ ‎‏‏‎‏‏‎ ‎‏‏‎ This article is about a website that no longer exists. ‎‏‏‎‏‎‏‏‎ ‎‏‏‎ ‎‏‏‎‏‏‎ ‎‏‏‎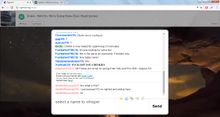 Rightxd.org or known as Rightxd was a screamer website that exists until September 2019, it has been circulating around the internet due to a bunch of posts refraining users from searching "Rightxd" on Google.
When the site is opened, the screen stays on a black screen for a second until a flashing, edited image of a girl with no eyes smiling appears and zooms in, along with the same scream from The Maze, the image covers the whole screen, in addition, if the user scrolls down, there is a box with some text explaining that this site was not meant to be scary, but to be a new form of art. the creator noted that "This site has never been and never will be a scare."
Prior to September 2015, the site used to show a flashing picture of Regan MacNeil while keeping the same scream, There is also a chat, the screaming is disabled. rightxd.org/chat, to see the original image of the girl, click here.
History
Originally, the site was "rightxd.com", it contains a screamer when typing "/666" after the "rightxd.com" part, it displays a flashing picture of Amy from Fright Night, it is the same animated file used from Mov0001.swf, it's basically the same thing what the site does.[1]
The original site moved into rightxd.org in 2014, As mentioned earlier, the site displays a flashing picture of a girl with no eyes, zooming in quickly, along with the same scream from The Maze, in August 2015, the screamer image was replaced with a picture of Regan MacNeil, while keeping the same scream.
In September 2015, the website redirects users to a deleted-video called "Head Horse", After 2 months, the site redirects to another now deleted-video called: "Cosplay".
Now at sometime in 2016 the picture is changed to some Minecraft Clouds, to view this you need to press F12 and make sure it is 700 px to the left.[2] As of 2018, the website has become a torrent website, As of now, the site gives an error, meaning the site is now defunct.
Link
NOTE: The following website contains a screamer!
Rightxd.org
Teenage Girl Version: web.archive.org/web/20160108162134/rightxd.org/iuie74rbowu.mp4
Regan MacNeil Version: web.archive.org/web/20160714195610/handbeezy.com/media/videos/521.mp4
Comments
Comments