Scary Maze Game 10
Jump to navigation
Jump to search
DELETED SCREAMER

‎‏‏‎‏‏‎ ‎‏‏‎ ‎‏‏‎ ‎‏‏‎‏‏‎ ‎‏‏‎ This page is about a screamer of which the original copy was deleted.‎‏‏‎‏‏‎ ‎‏‏‎ ‎‏‏‎ ‎‏‏‎‏‏‎ ‎‏‏‎ ‎‎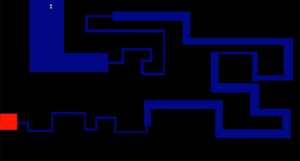 Scary Maze Game 10 is a YouTube video published in 2011 by user Mawskeeto. It is one of many clones of the original maze game.
It features different challenging mazes of different colors that a cursor must go through. The first and third levels are dark blue, while the sixth is white and the seventh is yellow; the second, fourth, fifth and eighth levels are teal like in the original maze.
However, on the last level, just as the cursor is about to finish it, an image of a black man with bulging eyes and wide mouth appears and screams.
The video is of rather poor quality: rather than a game, the mazes are merely normal images (judging by the fact the cursor passes through the walls), the screamer picture is on a stale, grey background, and the cursor can clearly be seen manually switching between mazes when it finishes a level.
NOTE: The following video contains a screamer!
youtube.com/watch?v=HO87rKmfrdM
Permalink: bit.ly/32KYfwL
Comments
[
edit
]
---