Screamer Wiki
:
About
From Screamer Wiki
Screamer Wiki, also called Screamerfanbase and formerly known as ScreamerChecker, was founded on November 11th, 2013 by AnimatorXP, with the goal to index all screamers ever made. Screamer Wiki started out on Wikia, now known as FANDOM, and we are now operating on our own website. Screamer Wiki has since then grown to 1,951 articles, 139,069 total edits, and 4,516 hosted files.
Screamer Wiki had the original purpose to let anyone easily check if a website or video was a screamer by looking up its name here, hence the former name ScreamerChecker. Since then, Screamer Wiki has expanded to include more types of screamers; Screamer Wiki now has articles about games, videos, shock sites, and much more!
History
Here is a timeline of all the milestones and major events in Screamer Wiki's history.
2013
November 11th, 2013: Screamer Wiki, then named ScreamerChecker Wiki, is founded by HLDK (known as AnimatorXP on YouTube). After creating only four pages, he goes on hiatus.
2015
July 16th, 2015: HLDK, the founder, comes back to the wiki after a year and a half of hiatus.
July 28th, 2015: Sump, owner of the former Scary Pop-Up Wiki, joins ScreamerChecker Wiki. The two wikis later merged to form an even bigger community.
August 4th, 2015: ScreamerChecker Wiki drops the Checker and gets renamed to simply Screamer Wiki.
August 24th, 2015: Screamer Wiki passes the milestone of 100 pages.
September 8th, 2015: Screamer Wiki becomes available in new languages: French, Spanish and Portuguese.
December 2015: Screamer Wiki becomes the biggest online library of screamers with an impressive record of over 250 pages.
2016
May 31st, 2016: Screamer Wiki passes the milestone of 300 pages.
October 2016: Screamer Wiki passes the milestone of 400 pages.
2017
January 2017: After three years and a half, Screamer Wiki passes the major milestone of 500 pages!
June 2017: Screamer Wiki passes the 600-page milestone.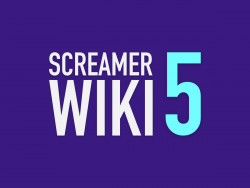 2018
January 2018: Screamer Wiki passes the milestone of 700 pages.
October 2018: Screamer Wiki passes the milestone of 800 pages.
November 11th, 2018: Screamer Wiki, formerly known as ScreamerChecker Wiki, celebrates its fifth anniversary!
2019
January 2019: Screamer Wiki becomes available in Indonesian.
February 2019: Screamer Wiki becomes available in Norwegian.
April 2019: Five years after its opening, Screamer Wiki passes the major milestone of 1,000 pages!
June 2019: Angeleno becomes a bureaucrat.
August 2019: FANDOM evicts Screamer Wiki, which forked to ScreamerFanbase.com and is now independently hosted via shared hosting.
October 2019: The original Screamer Wiki, which was hosted on FANDOM, officially closes after almost 6 years of operation.
2020
June 2020: Screamer Wiki makes the move from ScreamerFanbase.com to its new domain, screamer.wiki.
September 2020: Screamer Wiki updates its hosting platform (YunoHost); with that update comes in-house video hosting and updated forums. The Screamer Wiki subreddit is also created this month.
September 2020: Screamer Wiki Video was released in September 2020, where people could upload their own screamers and shock sites on the platform.
October 2020: Screamer Wiki hits 5 million views.
October 2020: Somebodylovesyou.biz's showcase video hits 100 views, being the first video to do so since Screamer Wiki Video was created.
October 10th, 2020: Articles about G-Major videos (except those that are well-known) were removed to prevent clogging the wiki.
November 11th, 2020: Screamer Wiki celebrates its seventh anniversary with a new banner on the homepage!
2021
February 14th, 2021: Screamer Wiki enables a skin called Cosmos, based on FANDOM's look. This skin is made the default skin for mobile (and an option for desktop).
April 28th, 2021: Screamer Wiki passed the 9 million views milestone.
April 29th, 2021: The Cosmos skin is updated to the latest version, the vector skin is the made the default look again for desktop, and some experimental skins are removed.
August 1st, 2021: Lomando.com and Luna Game articles became the first and second largest pages on this wiki.
2022
February 2022: An archived collection of screamer-related files, host.screamer.wiki, makes its move into files.screamer.wiki.
March 16, 2022: Usagi Puzzle became the third longest game-related page on the site.
March 22, 2022: Screamer Wiki completely redoes its backend. Before moving from a managed YunoHost instance to a LAMP stack.
April 1, 2022: For April Fools, Screamer Wiki releases a subscription service called Screamer Wiki Gold. Those that were gullible enough to navigate to gold.screamer.wiki were redirected to a Duckroll, a prank that predates the Rickroll.
April 2022: The Screamer Wiki forum was changed from Flarum back to MyBB, a forum software similar to PHPBB (what screamer forums used to use before mid-2020). Screamer Wiki Video was also killed at the same time due to rampant bot accounts and different database schemes.
September 2022: The Main Page reached the milestone of 1 million visits. Screamer.wiki also surpassed 100,000 edits.
October 2022: The default skin on mobile was changed to Monobook.
November 2022: The Screamer Gallery gets released.
December 15, 2022: Screamer Forums moves back to Flarum. Angeleno regarded the move to MyBB as a "costly mistake".
2023
January 29, 2023: The Screamer Network moves from a LAMP stack to a LEMP stack, which made pages that used to take 1-2 seconds to load now take less than a second.
February 27, 2023: Tankman fan 44 becomes a bureaucrat.
April 1, 2023: Screamer Wiki becomes about the species of bird of the same name.
April 22, 2023: All broken and empty files (showing as 0 bytes) have been removed from the wiki.
April 26, 2023: TheEpikShyGuy redraws the original mascot of Screamer Wiki, as that mascot is slated to come back for certain branding.
April - June 2023: All notice templates have been redesigned, such as Template:Stub.
July 9, 2023: Screamer Wiki gets upgraded to MediaWiki 1.40 and the default skin for mobile gets changed to Pivot.
November 11, 2023: Screamer Wiki turns 10 years old!
Logo Evolution
Here is a timeline of all the different logos used throughout Screamer Wiki's history.
First logo - November 11th, 2013 to August 1st, 2015
The initial logo for Screamer Wiki was used from the beginning all the way to August 2015, although it did not appear everywhere on the wiki.

Second logo - August 1st to 4th, 2015
The second logo was introduced as part of the first redesign of Screamer Wiki. It was the first logo to be widely used across the wiki, and it introduced a revamped design, dropping the solid background.
Third logo - August 4th, 2015 to June 13th, 2019
The third logo was introduced in August of 2015 when the ScreamerChecker Wiki was rebranded to Screamer Wiki. This logo dropped the Checker while bringing in a cleaner design and a new color scheme. Multiple variations of this logo are used throughout the wiki.
Fourth logo - September 3rd, 2018 to October, 2019
The fourth logo was introduced as a concept on September 3rd, 2018 to fit Apple's new iOS emojis. Although the logo was introduced in September, this logo was not used until May 2019 on the Screamer Wiki YouTube channel. The font used for the logo is DIN Condensed.

Current logo - October 19th, 2019 to present
The current logo, unveiled in October 2019, went through a revamp to honor the opening of the new Screamer.wiki.
To see special logos that Screamer Wiki has used over the years, click here.