Memebook.com.ar
Jump to navigation
Jump to search
CLOSED WEBSITE
This page is about a website which no longer exists.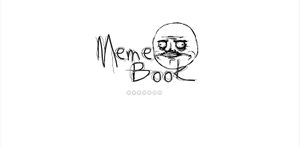 Memebook.com.ar is a viral screamer website. It has been spread by lots of blogs and humor sites as a meme themed version of the the famous social network Facebook.
The website shows a fake loading screen that consists of the words "Memebook" and the "Me Gusta" meme is shown. After some seconds, a flashing image of a zombie lady from some media appears followed with the same scream sound effect from Jingle Bells Reversed. Then shows a Troll Face with a text saying "Problem CC?" The original site is now down but can be accessed with the Wayback Machine.
NOTE: The following website contains a screamer with flashing lights!
web.archive.org/web/20120501050705/memebook.com.ar/
Showcase video: youtube.com/watch?v=nSMcN2xIgUg
Comments
[
edit
]
---