Early Liquid Generation E-Card Sabotages
From Screamer Wiki
Content Warning!
The following work contains content and material that some may find shocking. Reader discretion is advised.
In 2002, Liquid Generation released a series of Sabotage pranks with a similar theme, which usually came in the form of fake e-cards. They have presented in Windows 98/ME style windows, to trick people who received these pranks by email into believing that those are standalone applications.
Unlike other Sabotages, the point of most of these pranks was less about scaring the viewer and more about causing embarrassment in the workplace, usually by displaying inappropriate messages with loud sound cues to gain unwanted attention. Nevertheless, they may still startle unsuspecting viewers.
Sabotage E-Cards
007 Loves The Ladies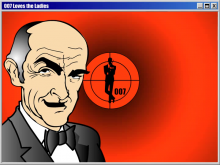 This prank is about a cartoon version of James Bond, who says in a (rather poorly) impersonated voice: "Sean Connery, James Bond, 007. I love the ladies. 007 loves the ladies. Miss Moneypenny..."
He is then interrupted by a red and yellow screen that says "PORNO!!!", with erotic music in the background and a female voice that keeps groaning and saying "Oh yeah, give it to me!".
Computer Virus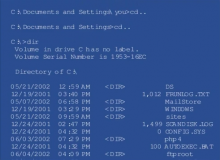 The title bar of this prank simply says "Awesome Game!". It starts with a basic button labeled "click to start". Once it is pressed, the flash starts displaying some fake automatically typed messages about accessing the computer's directories, leading up to "Delete all of the contents of drive C. Are you sure? <Y/N>". It automatically types 'y', and pretends to delete a bunch of files while loud, alarming beeping sounds play in the background.
Then a screen appears saying "your hard drive has been deleted.", followed by "just kidding."
Happy White Seal says "I Love You"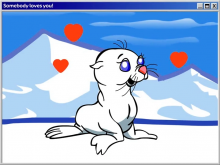 The prank's fake title bar says: "Somebody loves you!". It shows an adorable white cartoon seal sitting in an arctic region with animated hearts around it, which says: "Wow, someone must love you really, really a whole lot to send you such a lovely card. I love you so much, from a very special friend."
Then suddenly, a flashing black and white screen appear, while a voice shouts out "ANALSEX.COM! ALL ANAL! ALL THE TIME!" which is displayed on the screen in big red letters.
There is a slight pornographic version of this, in which the black and white screen was replaced with a video of a man kissing and licking a taxidermy goat head, this version is accessible at somebodylovesyou.biz. There is also a GIF version of this featured on Encyclopedia Dramatica.
Monkey Love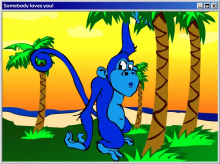 Like in the previous prank, the title bar says "Somebody loves you!". This time, a blue cartoon monkey next to a couple of palm trees near a beach at sunset talks to the viewer, and says: "Somebody sent you this card, 'cause they're real, real interested in getting you some monkey love. If monkey lovin's what you want, then this is what you're gonna get..."
Now a red and yellow screen pops up with a voice shouting: "CHICKSWITHDICKS.COM! HALF CHICK, HALF DICK! ALL THE TIME!" which is yet again displayed on the screen in black letters.
Personality Test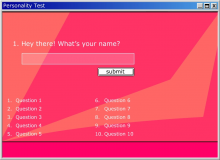 This is presented as a simple ten-question personality test where players type in their answers. The quiz is hosted by a person who narrates the questions and makes brief remarks about the answers, which are the same every time, even if the answer field is left blank. (leaving the first answer blank will display 'Name' as a placeholder, though.)
The questions and their respective comments by the host are:
Hey there! What's your name?
- Oh, that name's so you.
Now tell me your age.
- That's a good, ripe age.
What's your favorite color?
- Huh... I thought you would have chosen Mauve or Navajo White.
Do you wipe from in front or behind?
- Really?! That's not what my mom taught me!
When's the last time you boinked?
- ...you loser.
Who is your favorite celebrity?
- Did you know that they are a drugged addicted media whore with a kinky sex life? I'm serious.
What's your favorite food?
- Ok. That would explain how fat your ass has become this year.
Religiously speaking, who do you believe in?
- Really? I believe in The Beatles because they're bigger than Jesus. I also have this really big soft spot for Ringo.
Add these numbers together: 2+2+5+69+4+2+100:
- Good. I think you can move on to Advanced Retarded Kid Math.
How do you think you did on this test?
- From the looks of it, I'm not sure what you're going to think of your results. Let's tally the scores... The flash then pretends to calculate the results, leading to a slowly flashing screen with the player's chosen name on top and the text "YOUR PERSONALITY SUCKS!" in red letters, which is said out loudly by the narrator.
Secret Agent Man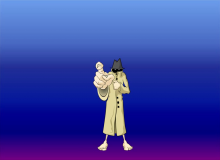 A cartoony secret agent with an obscured face, who is dressed in nothing but a fedora and a long trench coat, sneaks in from the left with the Pink Panther theme playing in the background. He then taps the screen and directly addresses the viewer, whispering: "Hey you! Yeah, you! Come here, I gotta tell you a secret. Get a little closer, listen up, you. You know what I've got? Check out my..."
He then quickly opens his trench coat, and the camera immediately zooms in on his crotch, which is obscured by a giant clock depicting a horse, as a voice loudly yells out "MASSIVE HORSE CLOCK!!!".
Secret Message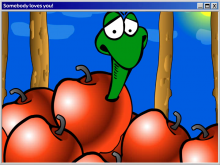 Similar to the White Seal and Monkey Love pranks, a worm inside an apple talks to the viewer, in a window titled "Somebody loves you!". The worm says: "While you're plugging away at your computer, I thought I'd just leave you this little message. Somebody told me they have a secret about you. I thought you might be interested. Here it goes..."
Then a red and yellow screen appears, saying "MY BOSS IS A PUSSY!!!", which is loudly shouted out by a voice.
You Are Being Hypnotized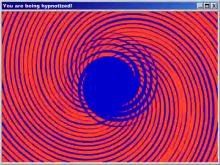 A hypnotic red and blue pattern is seen moving around the screen. Meanwhile, a voice says: "You are getting sleepy. You are getting very sleepy. You are being hypnotized. You can hardly keep your eyes open."
Then a human cartoon butt with several pimples suddenly appears with a prolonged fart sound.
Desktop
It appears with a pop-up box asking the user if he or she wants to change the desktop; no matter what is clicked, the same effect will happen. The user's desktop icons then change to different cartoon pornography; moaning and music play.
Links
NOTE: The following animations contain inappropriate or startling content.
007 Loves The Ladies:
Austin Powers: web.archive.org/web/20060326222849/www.liquidgeneration.com/content/a55hat.aspx?cid=229
Computer Virus: web.archive.org/web/20150517063417/liquidgeneration.com/Computer-Virus
White Seal: albinoblacksheep.com/flash/seal
Monkey Love:
Personality Test:
Secret Agent Man: web.archive.org/web/20151114081723oe_/liquidgeneration.com/media/horse_sabotage.swf
Secret Message: web.archive.org/web/20060326222649/www.liquidgeneration.com/content/a55hat.aspx?cid=240
You Are Being Hypnotized:
Desktop: web.archive.org/web/20160405152247/liquidgeneration.com/Desktop-Sabotage
Showcase Videos
Austin Powers: files.screamer.wiki/SWV_Archive/6d27039f-fed9-4a73-8d9b-8369bf22806b-1080.mp4
Secret Agent Man: files.screamer.wiki/SWV_Archive/8e100ba0-8afd-4024-9a18-462713d79b5c-1080.mp4
Secret Message: files.screamer.wiki/SWV_Archive/03fc4bc9-d650-413f-a26c-cfa34d152baa-720.mp4
Comments
Comments