Wonder Pets Theme Song
Jump to navigation
Jump to search
DELETED SCREAMER
This page is about a screamer of which the original copy was deleted.
CLEANUP NEEDED
This article has some issues. You can help Screamer Wiki by fixing the issues listed here.


Issues: Poorly written Page.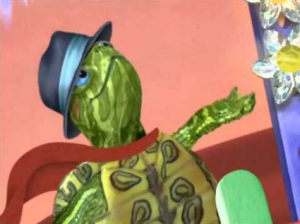 Wonder Pets Theme Song is a 28 second video uploaded to YouTube made by user big7ben2004 on October 30, 2012. This video disguises itself as a kid friendly video, but uses a screamer to trick people into knowing it's not.
The video begins with a brief clip from an intro from the popular Nick Jr. T.V. show The Wonder Pets. The video goes on as a normal intro, with the characters singing the iconic theme song. But, at the 0:21 second mark of the video, which seems like the actual end of the intro, a close-up picture of Regan MacNeil pops up along with a loud poor quality scream, which sounds like it was made by the creator of the video, and not taken from a different screamer.
Controversy
[
edit
]
This video has gotten a lot of hate, since it turns out that most of the viewers were parents with their kids, and kids which showed the video to young familiars, either to show them the video to entertain the younger ones or to show the kids what they used to watch, which can be seen in the comment section of the video. The video itself has been Age-restricted and it is based on the community guidelines for an unknown reason, but recently the video has now been taken down due to the video violating their Community Guidelines.
NOTE: The following video contains a screamer!
Deleted: youtube.com/watch?v=KBeVYyR_DmY
Reuploaded: youtube.com/watch?v=CrI1MKCO-f8
Permalink: bit.ly/2Cn0zin
Comments
[
edit
]
---