Rate My Poo
Jump to navigation
Jump to search
Stub Article
This article needs more work. You can help Screamer Wiki by expanding it!
CLOSED WEBSITE
This page is about a website which no longer exists.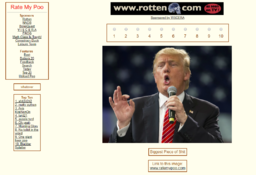 Rate My Poo is a shock site, It collects images of disgusting poop. in 2019, The site appears to shows an image of U.S. President Donald Trump; under the photo, a bottom text in protest of Trump, "Biggest Piece of Shit" is written; the website is partially closed as all links redirect to the main page.
NOTE: The following website contains extremely graphic images!
Current version: ratemypoo.com
Wayback Machine mirror: web.archive.org/web/20170829094316/ratemypoo.com/
Comments
[
edit
]
---