BestGore
From Screamer Wiki
Content Warning!
The following work contains content and material that some may find shocking. Reader discretion is advised.
Closed Website
This article is about a website that no longer exists. Links to its archive on the Wayback Machine or a saved copy are provided.
Bestgore.com was a shock site created by Mark Marek on April 30, 2008. The website published violent, uncensored videos, photographs, and news, similar to Ogrish and Rotten.com.
The site was created on April 30, 2008, by Mark Marek, and started sharing highly graphic videos and photos of events such as murders. With an estimated 10–15 million monthly visits, BestGore was the most popular shock site in the world. As well as hosting shocking footage and images, the site also had articles promoting conspiracy theories, with source material from notably David Irving and Ursula Haverbeck. The site had been viewed by some visitors and journalists as being racist and having an extremely toxic community.
In late 2020, the website closed with the message: "For over 12 years, BestGore.com was the go-to source for real news. Change is the only constant in life. Remember: Just when the caterpillar thought its world was over, it turned into a butterfly!" The domain was also put on sale.
Luka Magnotta's video
The site received media attention in 2012. following the hosting of a video that showed a real-life murder being committed by Luka Magnotta.[1]
As a result, Marek was arrested and charged under Canada's obscenity law with corrupting public morals. The conditions of his bail prohibit the use of computers or mobile telephones; this effectively ended his administration of the site until at least the outcome of his trial, expected in early 2016. Although Marek has been unable to run the website, several contributors have kept it functioning and continued to post material daily.[2]
Marek said that he had received testimonies from readers that viewing the images on his site had convinced them to avoid speeding, darting between traffic on a motorcycle, horseplay with forklifts, and even committing suicide. And that the government itself recognized the utility of shocking images by requiring them on cigarette packaging.
A new beginning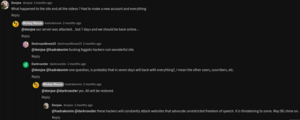 After the shutdown of Bestgore.com in 2020, the BestGore community migrated to Bestgore.fun, a new, user-generated PeerTube channel. In January 2022, an unknown person or group launched a distributed denial of service (DDoS) attack against the bestgore.fun server, causing the site to go offline for seven days. At that time, a new site called Goredb.com (short for Gore DataBase) was created, and all content was restored there. The site now only provides user-uploaded videos, not images or news.
References
Links
NOTE: The following website contains extremely graphic content!
bestgore.com
bitchute.com/channel/bestgore
Current website: bestgore.fun
Comments
Comments