Reventure: True Beauty is Inside!
From Screamer Wiki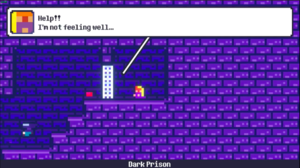 Reventure is an adventure game made by the Spanish game studio Javi "Pixelatto" Cepa[1] and released on June 4, 2019.[2] This adventure game is regarded as being a parody of the The Legend of Zelda series, which also influenced the entire gameplay. The game has at least one screamer and can be found in one of the endings, which has to do with luring the player into rescuing the protagonist's princess, as per the game's main objective.
The game's objective is to save the Princess from the Dark Lord, who is holding her captive in the castle. There are at least 100 different endings that could happen depending on how the player interacts with the world. There are no specific details about the ending on how to get the screamer. The "screamer" would happen at the Dark Bridge and the player would be called by the princess for help, from which she said she was "not feeling well." However, if the player enters the room where she was held captive, opens the gate, and gets close to her, she will turn into a monster with big teeth and munch him to death as the camera quickly zooms into the action.
The princess in question was named "Mimic", who disguised as a princess to scare the player.
After being killed by the Mimic, the following text would appear at the bottom, stating "It seems The Princess was just not guarded by a swinging anvil, but also by a mimic in the shape of her. The lump was cut, chewed, digested, and finally turned into a heroic goo." The player then achieved the #23 ending, titled "True Beauty is Inside!"
Trivia
There's an alternate ending where you go with a shotgun to where Mimico is but shoot him supposedly killing him. But a few seconds later after a text appears, Mimic revives with a loud scream as it kills the hero. This is considered the ending 74.
References
Links
NOTE: The following links contains a screamer!
reventure.fandom.com/wiki/Ending_23
Showcase video: youtube.com/watch?v=K-0QW3sXzz4
Comments
Comments