Mortal Kombat 9
From Screamer Wiki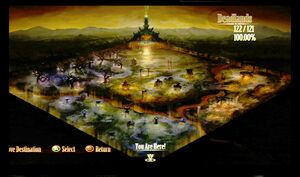 Mortal Kombat is a video game developed by NetherRealm Studios and published by Warner Bros. Interactive Entertainment.
The game itself has an easter egg that follows the pattern of Mortal Kombat games, being a fighting game with brutal fatalities with a touch of black humor. In this entry, however, there is a hidden screamer in Kripta.
The Krypt returns with a completely new look. Unlike in earlier games, this Krypt is now broken up into four sections: the Deadlands, Bloodmarsh, Hollow of Infestation, and Meadow of Despair, as well as the Nekropolis, which is where unlocked art, music, and costumes can be viewed; however, there is also a Kripta monster guarding the place, where if he finds you, he appears in front of the player with a loud scream. Afterward, the exploration of Kripta proceeds normally.
Trivia
The Kripta Monster does not have an exact spot to meet, since he appears randomly on the map.
Sometimes small footsteps can be heard when the player stands stopped for a while before the monster appears with a loud scream.
They say that this monster is one of Shang Tsung's unsuccessful Milenna clones.
Link
NOTE: The following video contains a screamer!
Preview: youtube.com/watch?v=fxEA_E5l0wE
Comments
Comments