FOLLOW THE RED DOT ! SCARY HYPNOSIS GAME !
Jump to navigation
Jump to search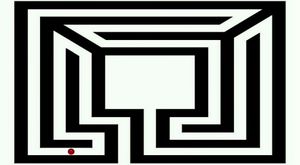 FOLLOW THE RED DOT ! SCARY HYPNOSIS GAME ! is a screamer video. It was uploaded to YouTube on March 28th, 2016 by user CrazyMarc666.
The video is quite similar to the original Follow the Red Dot, only the maze is a lot sparse. An unique thing about this video is that the screamer appears in the middle of the video. At roughly 27 seconds, a weird creature on a thundercloud backdrop crashes into the camera screaming before cutting back to the maze, where all action has stopped.
There's an alternative version which has the walls of the maze changes to blue one, and the face is replaced with a weird looking woman with her yet another scream.
NOTE: The following video contains a screamer!
youtube.com/watch?v=VicC5bBcKt0
youtube.com/watch?v=EEsPDQWXp-E • Alternative Version.