All about that Bass GoAnimate Parody 140 Subs Special Incomplete
From Screamer Wiki
STUB ARTICLE
This article needs more work. You can help Screamer Wiki by expanding it.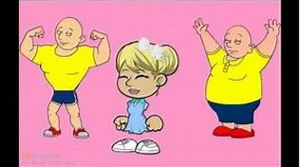 All about that Bass GoAnimate Parody 140 Subs Special Incomplete is a screamer video uploaded by YouTube user Hitler Yes Caillou No VGCP. It is a basic "grounded-less" Vyond video that is a remake of the music video for the song All About That Bass.
Near the end, (where the guy with a bat is scared by the robots), after the girl laughs, a picture of Bonnie the Bunny from Five Nights at Freddy's pops up with a loud scream.
Link
NOTE: The following video contains a screamer!
youtube.com/watch?v=lANt0J9MSDM
Comments
Comments