1 Lunatic 1 Ice Pick
Jump to navigation
Jump to search
NSFW
This article may contain material that is Not Safe For Work! Viewer discretion heavily advised.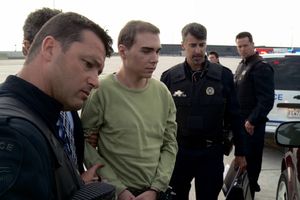 1 Lunatic 1 Ice Pick is a shock video uploaded to BestGore. The video is no longer on the site, however. It was shot in May 2012 in Montreal, Quebec, Canada by Luka Magnotta, a 30-year-old Canadian male.
The video shows Lin Jun, who was a Chinese international student and had met Magnotta on Craigslist for a one night stand [1][2], tied to a bed frame before he is repeatedly stabbed by Magnotta with an ice pick and a kitchen knife. His body is then dismembered, followed by acts of necrophilia. Magnotta uses a knife and fork to cut off some of Lin's flesh and gets a dog to chew on the body.
During the video, the 1987 New Order song True Faith plays in the background, and a poster for the 1942 film Casablanca is visible on the wall.
Magnotta's Arrest
Luka Magnotta was arrested on June 4th, 2012 in Berlin and charged on December 23rd, 2014 with one count of first-degree murder. Canadian authorities obtained a "more extensive" version of the video and said that cannibalism may have been performed. Lin's torso was found in a suitcase outside the apartment where he was murdered; Magnotta has also mailed parts of Lin's body to the Parliament of Canada, as well as the headquarters of the Liberal and Conservative parties of Canada.[3] Before he murdered Lin, Magnotta had committed several other crimes and created another shock video two years earlier, 1 Lunatic 2 Kittens.[4]
Links
NOTE: The following shock sites contain extremely graphic content!
web.archive.org/web/20160331145551/bestshockers.com/1-lunatic-1-ice-pick/
bestgore.com/beheading/1-lunatic-1-ice-pick-video/
deathaddict.co/embed/1034
ScareTheater reading about the shock video: youtube.com/watch?v=2JGnTYOoSag
Comments
---