Arthur.exe
Jump to navigation
Jump to search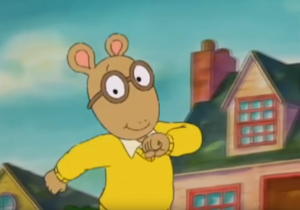 Arthur.exe is a screamer video based on the PBS Kids series Arthur made by Atarster.
The video begins with the regular Arthur theme song (Originally. it was Ziggy Marley and the Melody Makers - Believe in Yourself), after until the 11 seconds mark, a crude, bloody and mangled MS Paint drawing of Arthur pops up on the screen, accompanied with a extremely loud roar. The video became famous from Atarster Angry German Kid video series, where he is Leopold (the kid's name) worst nightmare.
There's an G-Major version where the screen gets darker and red instead of original.
Links
NOTE: The following video contains a screamer!
youtube.com/watch?v=YshkQ6zJS6g
youtube.com/watch?v=8g50Kx_iyYA
Permalink: bit.ly/2T1wZoz
Comments
---