Screamer Wiki
:
Help/eMail
From Screamer Wiki
This guide explains how to e-mail another user on the Screamer Wiki. This is especially helpful if you are trying to get to a user who is inactive. NOTE: You must have entered, and confirm your e-mail address before you can do this; this can be done in your preferences. The user you are sending an e-mail must also confirm his or her address, and have e-mail active, too.
1.Go to Special:EmailUser.
2.Type in the username of whom you want to send your message to.


3.Enter your message then send.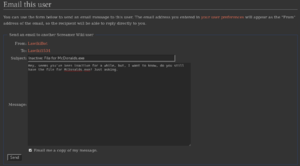 4.The recipient will then get the message in his or her inbox. The message, however, may appear in the spam folder though.
5.The message can be viewed and replied to, however, replying to the e-mail itself will reveal your email address to the recipient (which is noted in the message).