Duckpack51
From Screamer Wiki
Content Warning!
The following work contains content and material that some may find shocking. Reader discretion is advised.
This page is about a screamer or shock site, whose original copy has been deleted.
This screamer's original copy is deleted, but the article links to an archive on the Wayback Machine or another saved copy.
Duckpack51 is a graphic shock video of a young man getting beheaded by what appears to be a criminal gang. The video is named after the now deleted Blogspot where it originated from. The original video went viral on June 4, 2021 and showed a clip of a girl dancing on TikTok before cutting to the man being executed.
Origin
The video originated on a now-deleted Blogspot page titled Duckpack51. The video was first uploaded by the user Mayengg03 on TikTok, who was banned after he uploaded the video. During the video's release, the TikTok moderators have tried their best to investigate who's behind the video.[1]
At first, the video depicted a girl dancing to the song "Dick" by Starboy3, and then cut to the execution footage of a 19-year-old Mexican criminal Rodolfo Belluci, who began his criminal career at age 15. The video took place in what appears to be either a shower stall or locker room. Throughout the video, the executors taunt Belluci in Spanish, including with the words "puto" and "pillo", which are usually for males. They do not fully behead him in the video.
After Rodolfo Bellucci was murdered, he had his corpse scattered across Cuernavaca, Morelos. The execution took place in February 2019, and the video went viral in 2021 after it was uploaded to TikTok.[2]
Response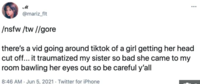 The edited video of Rodolfo's beheading went unnoticed by TikTok's moderation team, and immediately gained a massive amount of negative attention from TikTok users and some media networks including Newsweek, BristolLive, etc. When asked about the video by Newsweek, a spokesperson for TikTok responded with:
"We appreciate the concerted effort by our community to warn about an unconscionably graphic clip from another site that was spliced into a video and brought onto TikTok. The original video was quickly removed, and our systems are proactively detecting and blocking attempted re-uploads of the clip to catch malicious behavior before the content can receive views.
We apologize to those in our community, including our moderators, who may have come upon this content."[3]
References
↑

kora.fal3arda.com/390704/duckpack51-blogspot-com-2021-05-tiktok-extremo-html-m-1-duckpack51-blogspot-com-2021-05-tiktok-extremo-html-m-1-youtube/amp/

↑

https://whatstrending.com/tiktok-girl-beheaded-bathroom-rodolfo-bellucci
Link
NOTE: The following video contains extremely graphic content!
web.archive.org/web/20211031172108/litter.catbox.moe/s5f5uu.mp4
Comments
Comments