The IQ Test
Jump to navigation
Jump to search
STUB ARTICLE
‎‏‏‎‏‏‎ ‎‏‏‎ ‎‏‏‎ ‎‏‏‎‏‏‎ ‎‏‏‎ This Article is a stub. and it needs more work, you can help Screamer Wiki by expanding it. ‎‏‏‎‏‏‎ ‎‏‏‎ ‎‏‏‎ ‎‏‏‎‏‏‎ ‎‏‏‎ ‎‎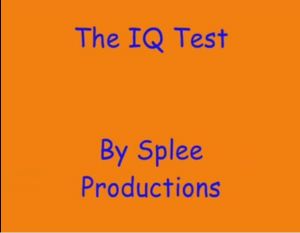 "The IQ Test" is a screamer video uploaded by YouTube User DanielMcCartan In February 25, 2007. 
As the title suggests, the video pretends to be an IQ test. It first tells the viewer to say the color a word that represents another color is in. After, it tells the viewer to watch the dot flash and count how many times it does. But the dot will take a maddening time to flash again. Besides, not long after, a picture of Regan MacNeil from The Exorcist pops up along with a scream.
Link
NOTE: The following video contains a screamer!
youtube.com/watch?v=xtVXbBa7eFw
Permalink: web.archive.org/web/20191116051412/seed28.bitchute.com/MsSTRWAUoJgN/PVvpAuI5I5MY.mp4
Comments
---