Shock site
From Screamer Wiki
CONTENT WARNING!
The following article contains content that some may find shocking.
Reader discretion is advised.
A shock site is a form of screamer that uses disturbing imagery, commonly pornography, gore, and graphic content to shock the viewer(s). Just like traditional screamers, shock sites have a goal to shock the viewers with unexpected content. Some good examples of shock sites are 2 Girls 1 Cup, Jarsquatter, 1 Lunatic 1 Ice Pick, and Goatse. These websites have gained a high level of popularity and are often used as a way to prank people. The first shock site ever created was Rotten.com, a website that featured pictures of dead people, disgusting diseases, deformed bodies, and a lot more. In addition, the website was also the first gore site ever created.
History
In 1996, Rotten.com was registered by Thomas E. Dell (Soylent), after he wrote a program that could guess domains with one word, and "Rotten" was one of the unclaimed words. Rotten.com hosted a gallery of gore videos and images.[1] One file submitted, "motorcyle.jpg", concerned many people and resulted in tons of emails sent to the creator. The file name suggests that it may have been a motorcycle accident, although the website claimed it was likely an "attempted shotgun suicide".[2]
In 1999, Goatse.cx was registered. Its front page showed a picture, titled "Hello.jpg" which depicts a man stretching his anus using both hands.[3] It was originally named "gap3.jpg" in the .zip file called "Gap.zip", a file with images of Kirk Johnson "using dildos and butt plugs to stretch his anus".[4] A shock image, Tubgirl originally took place there.
In 2000, Ogrish.com was registered to cover uncensored news and videos. Ogrish.com was best known for its publication of war videos and caused controversy without giving consent from victims' families to upload a video.
LemonParty.org was created on October 3, 2002, and showed a picture of three naked old men having sex while "If You Wanna Be Happy" by Jimmy Soul played in the background.
Meatspin, which was created in 2005, shows a looping video of two people having anal sex while the receiving partner's penis spins. You Spin Me Round (Like a Record) by Dead or Alive plays while the viewer watches the penis spin. The website also has a counter of how many "spins" the user has watched. The owner followed the website with Meatspinnetwork.com on February 2nd, 2006.

In 2007, Marco Fiorito directed a video called 2 Girls 1 Cup to MFX Media and gained popularity because of its shock value.[5]
In 2008, Bestgore.com was registered by Mark Merek and received media attention.
In 2008, Dnepropetrovsk Maniacs's video of murdering 48-year-old Sergei Yatzenko was leaked.[6]
In June 2012, Luka Rocco Magnotta posted a video on Bestgore.com of him stabbing and having sex with Jun Lin's corpse. Magnotta posted three videos one year prior of him suffocating his kittens in different ways.[7] One of his videos, titled "1 Boy 2 Kittens", went viral and angered many "cat lovers" who hunted him down. When the "1 Lunatic 1 Icepick" video was uploaded, they pointed out that it was Magnotta.[7]
In 2013, GoreJunkies recieved 4 million unique visitors after its launch.
In 2015, "2 Friends 1 Fish" was hosted under 2friends1fish.com, where it shows a fish receiving oral sex from two people. The Metro said that it had circulated "hundreds of thousands of times."[8] Daily Star also said that it was first uploaded by Facebook user Florin Rada.[9] On the same year, Glory Hole Foundation and its sister site Desk Corporate IT were planned as a prank to a user who was looking for warranted goods.
In April 23rd, 2019, Kekma.ga was released. Kekma.ga, also known under its current URL Kekma.net, is a shock site that once opened displays an 18+ age warning and a giant button that says "ENTER" in the middle. Once clicked, the website will change to extreme gore with a centre video of a man squatting in a pool of semi-clotted blood, forcing a large, bloodstained industrial screw down his urethra. A 41-minute video titled "The Kekma movie" was released on September 11, 2020, and contains several YouTube Poops, various parodies, offensive jokes, and numerous 9/11 statements. The owner of the website, Obok Meatgod, followed up with another site called WomensAlliance.xyz, which shut down a few months later.
Popular Culture
Because of their popularity, shock sites have been mentioned or featured in many works of fiction. Lemon Party has been mentioned in a sketch on Talkshow with Spike Feresten, Archer, The Simpsons, The Cleveland Show and 30 Rock. 30 Rock made three allusions to "Lemon party".
The website has also been described by Jimmy Fallon on the Opie and Anthony radio show, on Chelsea Handler's TV show Chelsea Lately, Michael J. Nelson from RiffTrax.com during the RiffTrax for Avatar, by Jon Stewart on The Daily Show, American Dad, and by Michael Cera and Jonah Hill during promotion for the film SuperBad.
In the Family Guy episode Back to the Woods, Brian asks Stewie for help getting unhitched to a pole, but Stewie refuses in retaliation for "making me watch that video with the 2 girls and a cup!" The episode then cuts to Brian filming Stewie sitting on the computer and watching 2 Girls 1 Cup. Stewie then proceeds to become surprised and shocked by the video.[10]
Reactions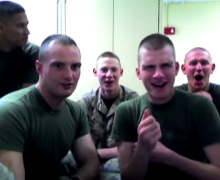 As shock sites made surface on the web, more reaction videos were being posted and eventually became a trend on the Internet. The concept of a reaction video is to get someone to visit a shock site while recording their reaction. A good example of this is the Marines 2 Girls 1 Cup Reactions video, which has accumulated almost 10 million views since it was posted to YouTube in April 2008. In addition, this is the first reaction video ever on YouTube.
Links
External Links
References