Luka Magnotta
From Screamer Wiki
CONTENT WARNING!
The following article contains content that some may find shocking.
Reader discretion is advised.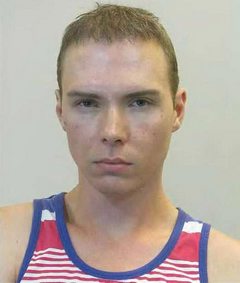 Luka Rocco Magnotta, (Real name Eric Clinton Kirk Newman), is a murderer and former gay pornstar that was born on July 24, 1982, in Scarborough, Ontario. His father, Donald Newman, was diagnosed with schizophrenia in 1994 (after he divorced his mother, Anna Yourkin). His first appearance on the internet was him depicting in multiple gay porn sites. He also appeared on the Toronto based magazine Fab as a pin-up model.
On August 12, 2006, his name "Eric Clinton" was legally changed to "Luka Magnotta".
Criminal Activity
Luka Rocco Magnotta was sentenced to 25 years in prison in May of 2014 for the first-degree murder of Chinese student Jun Lin.
On the night of December 21st, 2010, he uploaded a video of him torturing 2 kittens he brought from a pet store. It is unknown what platform the video was first uploaded on. It starts with him coming towards the kittens and patting them. After this, he puts the kittens in a vacuum bag, and starts sucking the air out of them with a vacuum. After vacuuming, he turns off the vacuum to show the kittens dying of asphyxiation. During the video, the song "John Lennon's Happy Christmas (War Is Over)" plays in the background. The footage has been circulating around the internet since it's release. A Netflix documentary titled Don't Fuck with Cats released on December 18, 2019, which brought popularity to the subject again.
Sometime in 2011, Luka uploaded another video of him torturing a kitten by feeding it to his pet python, with the name "Python Vs Kitten." This video started to spread on Reddit. He also made another a video called 'bath time lol' which shows him wrapping a cat in saran wrap on a broomstick and then drowning the cat in a bathtub.
An 11-minute video titled '1 Lunatic 1 Icepick' was posted to Bestgore.com on May 25, 2012. The video depicts him murdering an international Canadian student named Jun Lin who was born in Wuhan, China, who was first tied to a bed frame naked and blindfolded. Luka then takes an ice pick and a kitchen knife and stabs him repeatedly. After he stabbed him multiple times, Luka has sex with Jun Lin's corpse. Eventually, Magnotta uses a knife and fork to cut off some of Lin's flesh and feeds some of the flesh to his dog. During the video, the 1987 New Order song True Faith plays in the background, and a poster for the 1942 film Casablanca is visible on the wall. Jun Lin was last seen on surveillance camera entering the apartment building on Décarie Boulevard on the night of May 24th, 2012.[1]
Social Media
Luka Magnotta created multiple accounts on certain social media such as YouTube which were all terminated after the investigation. He had multiple accounts: "1999vamp, imlukamagnottas1fan, richardduck17 and more" which were all terminated. His Twitter account was later hacked, and proceeded to release information tied to the account. Later on, the hacker used the account to post Antifascist content.[2] Luka also had a website called Luka-magnotta.com.[3]
Magnotta created so many accounts on certain social media and discussion forums over several years, to plant a variety of claims about himself.
References
↑ web.archive.org/web/20200113214245/globalnews.ca/news/1708594/tracing-luka-magnottas-footsteps-the-night-jun-lin-is-last-seen-alive/
↑ web.archive.org/web/20191231124447/twitter.com/luka_magnotta
↑ Luka Magnotta's website: web.archive.org/web/20121213073129/luka-magnotta.com/
Learn more
Wikipedia: en.wikipedia.org/wiki/Murder_of_Jun_Lin
Real Life Villains Wiki: reallifevillains.miraheze.org/wiki/Luka_Magnotta
Links
NOTE: The following videos contain extremely graphic content!
Comments
Comments